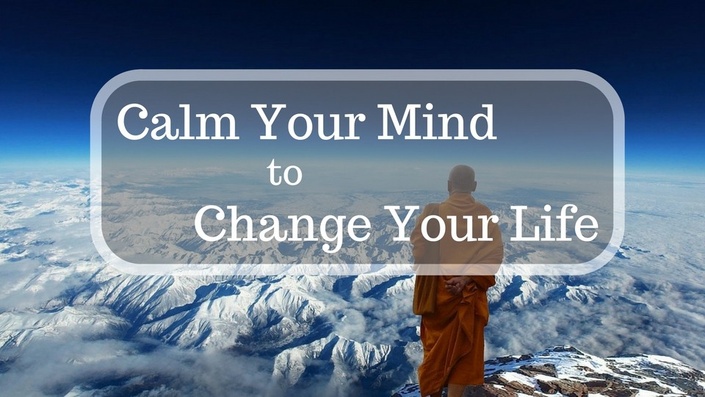 Calm Your Mind to Change Your Life
Discover How to Quickly Calm Your Mind to Take Back Control of Your Life with 10-Minute Meditations and CBT
Are You Feeling Tired And Stressed Out?
You're About to Discover a Quick & Easy Way to Calm Your Mind, Take Back Control of Your Life And Feel Better Without Medication…
Anyone can use this to start feeling better today


You don't need to invest money in equipment or special training (this mini-course is all that you need)


Begin seeing results immediately!
Do you ever find yourself stressed, anxious, or just mentally exhausted?
Unfortunately, when you're stressed out and you're not mentally calm it can even affect your physical health and overall well-being.
When people are tired, stressed, or have anxiety, they often go to visit their doctor…
...of course, this often leads down a path of expensive medications and other treatments that may provide some temporary relief, but don't actually give you a permanent solution ...
Not to mention the complications associated with prescription medications.
Many people are looking for a more natural solution...
The Good New Is, You Don't Need Prescription Medication To Calm Your Mind...
That's right…
Although many people may look at pills as a "quick fix" for stress and anxiety, there is a much better way…
One of the most effective and NATURAL ways to calm is your mind is through meditation
Meditation doesn't cost you any money, can be done almost anywhere, and it's been scientifically proven to have positive effects on both your mind and your body.
Although meditation is a natural solution that everyone should embrace for calming the mind and improving overall well-being, in our busy, hectic and drug-reliant world…
There Are Some Misconceptions About Meditation...

Many people think that meditation is about "achieving enlightenment" or that it's used to recreate the effects of hallucinogenic drugs…

...and many think meditation is a practice related to various religion.
Yes, meditation can be any or all of those things but ...
Meditation is actually all about practicing control over your thoughts
At the core, meditation is an ancient practice used by billions of people around the world.
It's used to focus your thoughts and clear your mind.
In our busy world, it's often hard to control our thoughts.
Do you find yourself reacting to your environment?
Do certain people "push your buttons", causing you to react?
When you're reacting, you don't have control…
When you discover how to successfully practice the ancient art of meditation, you can take back control in your day-to-day life and calm your mind…
I've been using meditation for years to sharpen my focus, calm my mind and to improve my general well-being, and I want you to be able to use it too …
That's why I've put together this concise mini-course to show you how to calm your mind with the power of meditation ...

Introducing the "Calm Your Mind to Change Your Life" Mini-Course
Here's Just Some Of What You'll Experience In This Mini-Course …
Why perception is everything and how to take back control of your mind… and your life...


If you've never meditated before, you'll discover exactly what meditation is, why you need it, and how to get started today...


Meditation is a great way to calm your mind and take back control, but did you know it can also improve your health, reduce pain and even help you become more successful in your career?


The different types of meditation are revealed and you'll discover which one is the best for you depending on how things are currently going in your life
You'll get a simple, step-by-step meditation program that you can use to get started today, and you'll see ...
How to become more present and use meditation in everything that you do...


How to tap into your best you for ultimate performance in every facet of your life...


Most of us just walk through life, going through the motions like a zombie… Discover how to come "come back to life" with meditation...


Discover what a "flow state" is and why it's important to the human brain...


Why we're wired and tired ... and how you can have more energy than you've ever had without caffeine or other artificial stimulants...


The quick little morning ritual you should adopt that will give you more energy, more calm and more focus each and every day...


An introduction on CBT (Cognitive Behavioral Therapy) ... and how you can use it to better control your thoughts …


How use CBT to change your life forever and overcome anxiety ...


The simple, yet natural way to sleep better and wake up more rested each day ...


Plus, a whole lot more ...


Who Should Enroll in this Mini-Course?

If you answer YES to any of the questions below, you need this mini-course …

Are you frequently stressed out or dealing with anxiety?


Have you ever considered taking medication to help calm your mind (or you're already taking something)?


Do you sometimes struggle with "turning off your thoughts" so that you can sleep, but you end up tossing and turning all night ... aka Do you have "Monkey Chatter" in your brain?


Have you tried meditation in the past but didn't get the results you had hoped for?


Do you like the idea of calming your mind and improving your overall health naturally?


Are you ready to be "the best you" that you can be?
This easy-to-follow mini-course is the next best thing to having your own meditation coach...

Let's take a quick look at what you'll get LIFETIME ACCESS to when you enroll in this mini-course today …

~ The Calm Your Mind - Change Your Life 43-page eBook (read it here or download it to take along)
~ The Calm Your Mind - Change Your Life 10-part video series. Narrated by a professional voice artist, these short videos take you through the same steps as the eBook. These "bite size" videos run from 4 to 16 minutes each; most are about 7 minutes long
~ The Calm Your Mind - Change Your Life" Quick Start Guide" to get you started so you can begin calming your mind naturally within minutes from now

~ 5 Stress Reducing Meditation "How To" videos presented by Yoga/Wellness Expert Marin Gordon. These videos are short and to the point ... don't waste your time or over-complicate this!
1. Stress Reducing Breath Meditation (1:49 minute long)
2. Stress Reducing Body Scan Meditation (1:53 minute long)
3. Stress Reducing Gratitude Meditation (1:49 minute long)
4. Stress Reducing Visualization Meditation (1:25 minute long)
5. Stress Reducing Mantra Meditation (1:21 minute long)
~ The "Resource Sheet" gives you a quick point of reference to all of the resources mentioned throughout the mini-course. This makes it easy to plug-in and stick with meditation as a daily tool for calming your mind and improving your health.

~ Bonus #1: "8 Powerful Meditations to Conquer Stress and Anxiety" (17 pages)
~ Bonus #2: "8 Powerful Meditations to Conquer Stress and Anxiety" - Cheat Sheet (to jump-start your journey!)
This Mini-Course Will Help You…

Get started with meditation, CBT and relaxation the right way, so you get the maximum benefits
Avoid missing any important key details about meditation and calming your mind

Stay focused to follow through and see results in all aspects of your life

Truly calm your mind and improve your overall health and well-being
So what are you waiting for?
Hit the ENROLL button and let's get started!
Course Curriculum
Please Start Here
Available in days
days after you enroll
#1-Calm Your Mind - Quick Start Guide
Available in days
days after you enroll
Frequently Asked Questions
When does the course start and finish?
The course starts now and never ends! It is a completely self-paced online course - you decide when you start and when you finish.
How long do I have access to the course?
How does lifetime access sound? After enrolling, you have unlimited access to this course for as long as you like - across any and all devices you own.
What if I am unhappy with the course?
We would never want you to be unhappy! If you are unsatisfied with your purchase, contact us in the first 30 days and we will give you a full refund.